What you should know before you apply:
If there is already a distributor in your area we cannot add another one.
You have to buy one of the starter packs.
No starter packs will be sold before an application is filled in and accepted.
Any questions email brineel@dieregesondheid.co.za
Who can become a distributor:
Any person with good selling skills and who loves to learn about health can become a distributor.
You can do it from your house, office or shop.
Distributors should carry a small amount of stock.

How does it work:
After you apply, we will consider your application and if it is accepted you will be invoiced for the chosen Starter Pack.
Once have paid and funds are cleared, it will be sent to you or you can collect it from your nearest Super depot.
Super depots are situated in Hennopspark, Barberton, Kimberley, Margate, Tzaneen, Cape Town and Gamtoos Mouth.
Courier costs are for your own account You will be invoiced for it.
You add a specified maximum amount to your prices and courier costs to get to your own selling price.
You can advertise on our facebook page and where ever you like.
Products can be ordered on our online store. You will get a login and password as soon as you are accepted.
If products are in stock, you should get them within a week.
You will be added to our whatsapp group where you can get all the information you need.
Orders have to be paid in full before they are dispatched.
All orders must be made on our online shop. No order will be accepted at the factory.
You can only sell in the area(s) approved/allocated to you.
No products are allowed to be repacked or sold under a different name without prior written consent.
Any questions you can whatsapp Brineel on +31653249870 or email brineel@dieregesondheid.co.za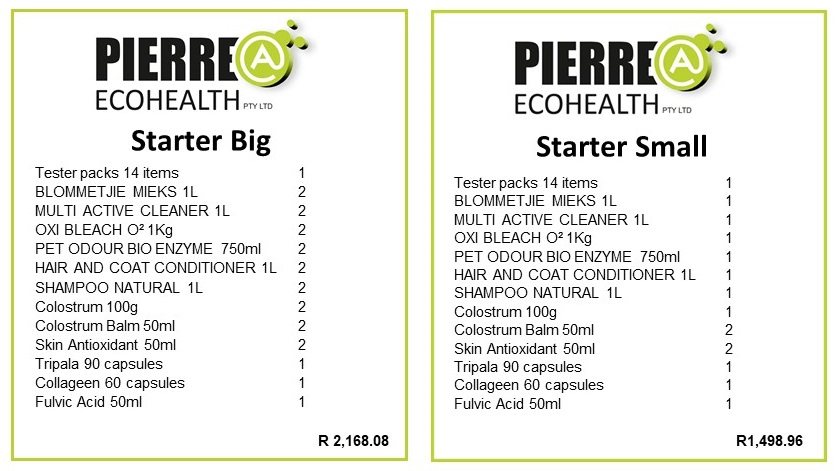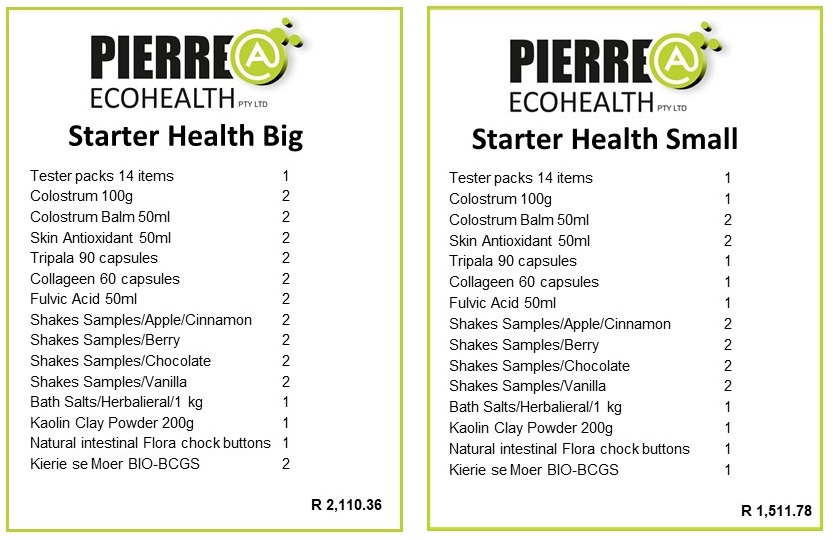 Choose your Starter pack and fill in the online application form.
* Prices may vary when you order from a Super Depot because of courier costs.