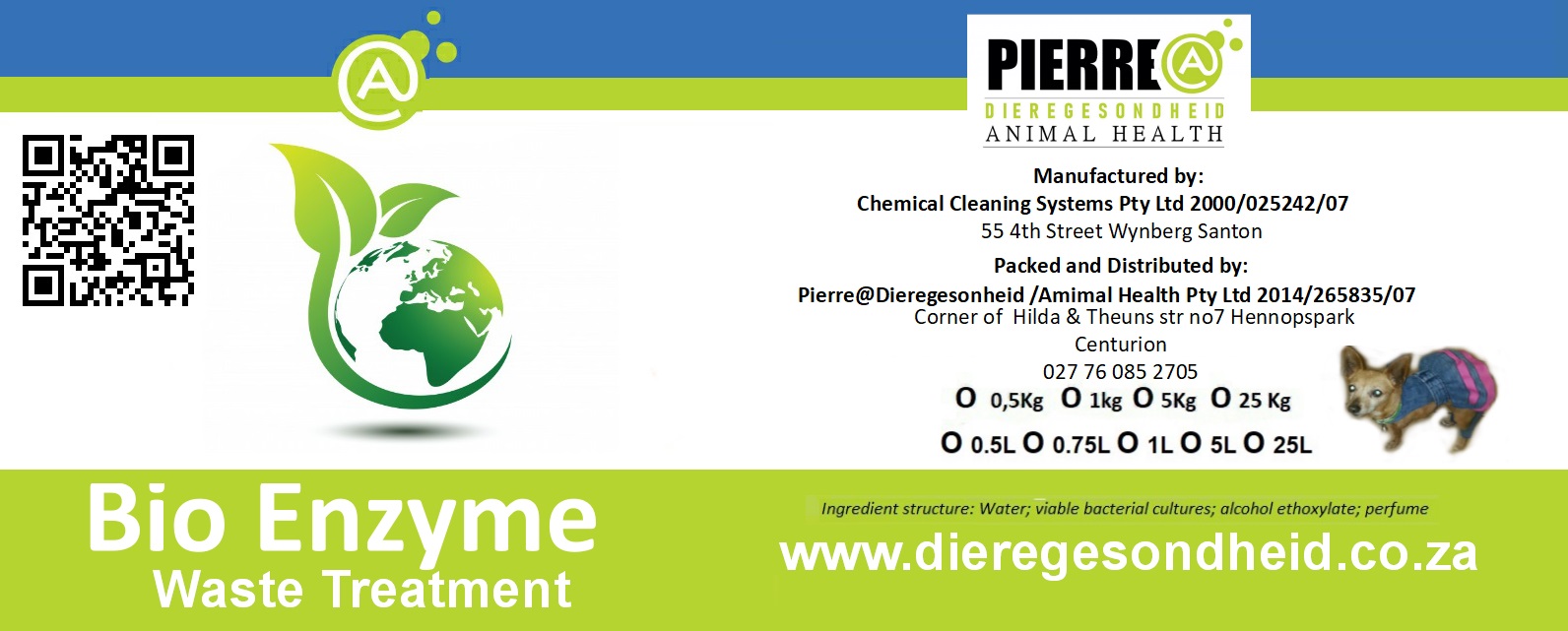 P@D BIO ENZYME
Benefits
Drain lines and grease traps – degrades and eliminates organics found in drain lines and grease traps. Regular addition of PIERRE@D BIO ENZYME maintains a cleaner and odour-free system. Septic and waste treatment – maintains effective activity in septic systems, eliminating the need for excessive pumping. Eliminates odours caused by incomplete digestion of malodorous volatile fatty acids. Bathroom cleaning and odour control –penetrates cracks, crevices and pores of surfaces where organics accumulate, removing the organics leaving a visually cleaner surface. Provides long term odour control by removing the organics that cause odours and prevents their return.
Features
• A stable consortium of safe Bacillus spores • Production of multiple enzymes providing a wide range of degradation capabilities • A synergistic blend that works in concert to provide superior performance across multiple applications • Excretion of high levels of amylase, cellulase, lipase and protease enzymes • Ability to work under aerobic and anaerobic conditions • Single product simplicity for multi-application flexibility
Voordele
Dreineringslyne en ghries plekke – takel af en elimineer organiese stowwe wat in dreineringslyne en ghries plekke gevind word. Gereelde aanwending van PIERRE@D BIO ENZYME handhaaf 'n skoner en reukvrye stelsel. Septiese en afval behandeling – handhaaf effektiewe aktiwiteit in septiese stelsels, wat die noodsaaklikheid vir oormatige pompaksies elimineer. Dit elimineer reuke veroorsaak deur onvolledige vertering van onwelriekende vlugtige vetsure. Skoonmaak van badkamer en beheer van reuke – dit penetreer krake, skeure en porieë van oppervlaktes waar organiese stowwe ophoop, deur die organiese stowwe te verwyder en 'n sigbare skoner oppervlak agter te laat. Dit voorsien langtermyn beheer van reuke deur die organiese stowwe te verwyder wat hierdie reuke veroorsaak en verhoed dat dit terugkeer.
Kenmerke
• 'n Stabiele konsortium van veilige Bacillus spore •Produksie van veelvuldige ensieme wat 'n breër reeks van aftakeling vermoëns voorsien • 'n Sinergistiese versnit wat saamwerk om bogemiddelde werking oor verskeie aanwendings te verseker • Uitskeiding van hoë vlakke van amilase, sellulase, lipase en protease ensieme • Vermoë om onder aerobiese en anaerobiese toestande te werk • Enkel produk eenvoud met buigsaamheid vir 'n breë spektrum van aanwendings.
Pierre van Niekerk © 2017