Weereens, ek is nie n dokter of veearts nie. Tweedens, ek is nie die Vet guru nie.
Al wat ek wel gedoen het is om baie bronne te raadpleeg oor wat 'n vetsel is en hoe dit lyk. Hoekom vetselle nodig is en hoekom belangrik.
Dit is baie meer kompleks as wat ek nou sê. Maar in eenvoudige taal die volgende. Jy moet die verstaan, want as jy vet verstaan, sal jy verstaan om gewig te verloor en verstaan hoekom my produkte gekies en so saamgestel is. Hierdie gaan jy in eenvoudige taal verstaan.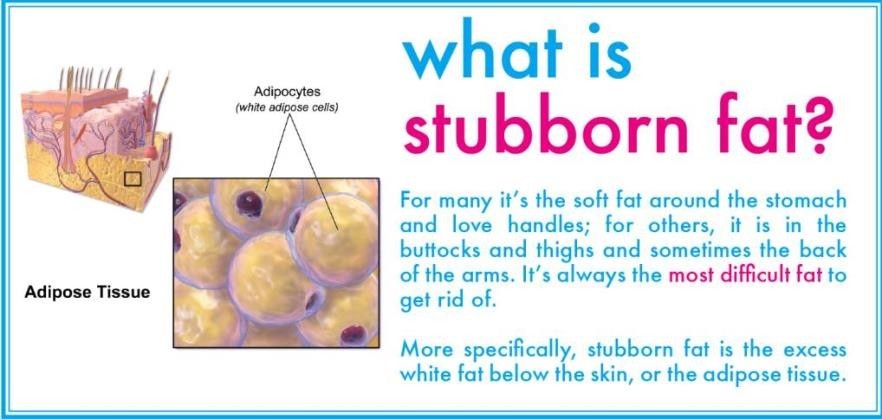 Ken jou vyand, ken jou vet.
Die liggaam stoor oortollige energie as vet, wat dan dien as spens vir energie wat uiteindelik maar suiker is en als, selfs proteien word uiteindelik
suiker.
Die gevaar hier is, as die liggaam vreemde elemente kry wat dit nie kan afbreek nie, skei die liggaam dit nie in die dikderm uit en daar spoel jy dit weg nie.
Die liggaam stoor die vreemde elemente in vetselle.
Maar wat is n vetsel? Bestaan ook uit atome uit. En 'n vetsel bestaan uit Atome wat bloeddruk reguleer, hormone vrystel, invloed het op reproduksie,skildklier funksies ondersteun, energie stoor.Op mikroskopiese vlak bind hierdie atome met suurstof en wat vorm dit? Koolsuurgas en water! En dit word die vetsel.
Wat is koolsuurgas? 'n Vrye radikaal. Wat n atoom soek of van iewers wil steel en is 'n kwaadstoker. Lees op oor ons skrywe.

Nog meer. As die liggaam geweet het om die atome en molekules wat hy daar stoor, wat moeilikheid soek, af te breek en uit te skei, het hy.
Die moet by jou insink. As jy 'n koppie vol water het, kan dit net soveel vat. As jy water bygooi. Mors jy. Jy het nog 'n koppie nodig. Wat maak die liggaam? Weet nie hoe om die goed uit te skei nie. Kry rede vir nog n vetsel. En nog 'n vetsel en nog 'n vetsel... en so pak goed saam wat nie afbreek en uitskei nie. En jy tel gewig op omdat jy goed inneem wat nie afbreek en uitskei nie.
En jy weet jy eet nie soveel nie. Maar jy tel gewig. Want jy doen niks wat die molekules, die vrye radikale in die vetselle nul maak en die atome 'n elektriese lading te gee wat dit dan natuurlik bind, neutraliseer om dit natuurlik uit te skei nie. Ook nie die ander vrye radikale wat jy self vervaardig of opneem, met jou lewenstyl- gewoontes, goed wat jy eet, meds wat die liggaam nie weet hoe om af te breek en uit te skei nie.Jy word n versamelaar en niks, niks gaan help as jy nie produkte gebruik wat die atome bind, neutraliseer en jou liggaam instaat gaan stel om dit deur limf of lewer of niere of sweet uit te skei nie.
Daarom Fulvic suur wat suurstof na selle toe bring, elke sel op mikro vlak kan penetreer en elke sel weens sy molekulêre stuktuur met al die nodige minerale en spoorelemente te voed en, belangrikste, aan vrye radikale kan bind en dit neutraliseer vir af en uitskeiding.
Daarom ons reeks probiotika, wat die kos wat jy inneem kan afbreek en suksesvol die voedingstowwe vrystel vir opname.
Daarom kolostrum, wat sorg dat jy 'n volledige stel van als het wat voeding aanbetrref wat die ligaam herken, stamseel te stimuleer, selvervanging stimuleer, elke sel in jou loggaam maksimaal te kan voed.
Daarom wat lewerfuksies stimuleer en aan vette in die lewer bind om dit af te skei. Wat aan vrye radikale ook bind in die bloedstroom en dit afskei in die lewer om afgebreek te word en, 'n matige natuurlike lakseermiddel is wat als wat dood is en klaar gebruik is, uit te skei sodat jy kan detox.
Daarom kollageen wat die gom tussen selle en weefsel is om verjonging te bevorder en selveroudering na detox af te weer.
Daarom ons velsorg produkte - van Bentonite (ekstra negatief gelaai) daarom ons Antioksidant om die mitochondria, die enjin in jou selle te diens en te stimuleer en die balm, 1000 + voedingstowwe in jou selle te pomp om jou optimale velsorg te gee.
Laastens. Jou lewer filter ongeveer 600 liter bloed per dag en jou niere filtreer ongeveer 400 liter uriene. As jou selle vuil is, en jou lewer en dikderm disfunksioneel, en jy aanvaar dat jou hart 24 uur per dag bloed pomp na jou gesig en ander organe toe...
Wat verwag jy moet met jou gebeur? Dat jy ongeskonde deur die lewe gaan, nie velskade gaan opdoen nie, nie vet word nie en nie gaan sere ontwikel wat jy nie verstaan nie?
Nie plooie en rekmerke gaan ontwikkel nie?
Dit is in kort die teorie agter die samestelling van die Pierre @ Natural Health se gesondheidsprodukte.


Product Features
Sugar Free

Soy Free

No Preservatives

Lactose Free

Gluten Free

GE/GMO Free Ingredients

Suitable For Vegetarians

Dairy Free

Suitable For Vegan

Alcohol Free

50ml and 100ml Bottles
Product Information
Fulvic Acid is a part of the humic structure in rich composting soil. It is an acid created in extremely small amounts by the action of millions of beneficial microbes, working on decaying plant matter in a soil environment. It is of low molecular weight and is biologically very active. Usually carries 70 or more minerals and trace elements as part of its molecular structure. These are then in ideal natural form to be absorbed by plant roots and interact with living cells.
Benefits of Fulvic Acids:
Research is only starting to uncover the important role that fulvic minerals play and the information is amazing! Fulvic Acids support the body in a variety of ways including digestion, cell health, brain health and in the uptake of nutrients and the removal of toxins.
Ingredients
Fulvic Acid contains: Iron, Manganese, Calcium, Potassium, Phosphorous, Silica, Magnesium, Sodium and Zinc. Trace elements include: Gold, Platinum, Silica, Boron, Lithium and copper.
Warnings
If you are pregnant, nursing, taking any medication or have a medical condition, please consult your healthcare practitioner before taking this product. Fulvic Acid may cause a reduction in blood pressure.
Directions for Use
Take 3 drops in the morning after a meal. It can be taken twice a day to ensure the absorption of vitamins, minerals and other nutrients in your diet.
Fulvic Acid is one of two classes of humic acidic, organic compounds found in the earth's soils, rock sediments and bodies of water.
Over the past several decades, we've learned a lot more about how humic substances found in dirt, including Fulvic Acid, can actually improve human
gut health and therefore immune functions. While people used to obtain higher amounts of humic acids naturally from the soil, today they often turn to food-grade supplements to boost their nutrient intake and improve gut health.
Fulvic Acid is found in nature as a product of microbial metabolism processes, which means it's produced when organic plant matter decomposes and millions of beneficial healthy bacteria are released. That's why Fulvic Acid is able to do the following:
1. Improves Gut Health and Immune Function
Fulvic Acid and other humic acids contain a plethora of nutrients that improve gut health, including: trace minerals, electrolytes, fatty acids, silica (which boosts collagen synthesis), prebiotics and probiotics. These help nourish the digestive tract and also boost the ability of "good bacteria" to repopulate and form a healthy "microbiome" environment. We need a strong digestive system to build immunity, help control hormone production, regulate our appetite, to reduce our stress response and much more.
For hundreds of years, an ancient remedy known as shilajit, which contains roughly 50 percent to 60 percent Fulvic Acid, has been used in traditional Ayurvedic medicine to treat a wide scope of health benefits that can be traced back to poor digestive/immune health. A poorly working gut is where many chronic health conditions take shape, which is why leaky gut syndrome is so harmful.
As a result of gut permeability (when particles are able to escape through the gut lining and enter the bloodstream where they shouldn't normally be), inflammation is triggered and autoimmune reactions can occur. There is some evidence that consuming Fulvic Acid can help decrease digestive disorders and other issues, including: SIBO symptoms (small intestine bacterial overgrowth), inflammatory bowel disorders, bacterial infections (respiratory, urinary tract, etc.), or the flu and common colds, for example.
2.Helps Boost Digestion and Nutrient Absorption
Acquiring enough electrolytes and other trace minerals is important for proper metabolic functions,
digestive health and nutrient assimilation. Organisms we obtain from Fulvic Acid can be taken in small doses and still cause fast, significant improvements in the ratio of bacteria
living in the gut, helping lower many unwanted digestive symptoms like constipation, bloating, diarrhoea and food sensitivities.
Besides providing raw nutrients, Fulvic Acid transports minerals and other nutrients to cells more effectively, boosts absorption rate of nutrients by making cells more permeable,
and fights inflammation within the digestive organs.
Another benefit of taking Fulvic Acid as a supplement is that it helps restore the body's optimal pH level. By alkalizing the body and preventing an overly acidic environment
from forming, humic acids might be able to help prevent long-term illnesses from developing and improve defence against harmful bacteria, fungus, yeast and other organisms.
3.Protects Cognitive Health
A 2011 study published in the Journal of Alzheimer's Disease found that Fulvic Acid has several antioxidant, nutraceutical properties with potential activity to protect cognitive
impairments, including Alzheimer's disease.
A contributing factor to the development of cognitive disorders is free radical damage and also a type of protein called tau, but studies show that Fulvic Acid helps lower the
length of tau fibrils and their morphology, disassembling their performance and
stopping disease progression. The researchers concluded that Fulvic Acid is likely to provide new insights in the development
of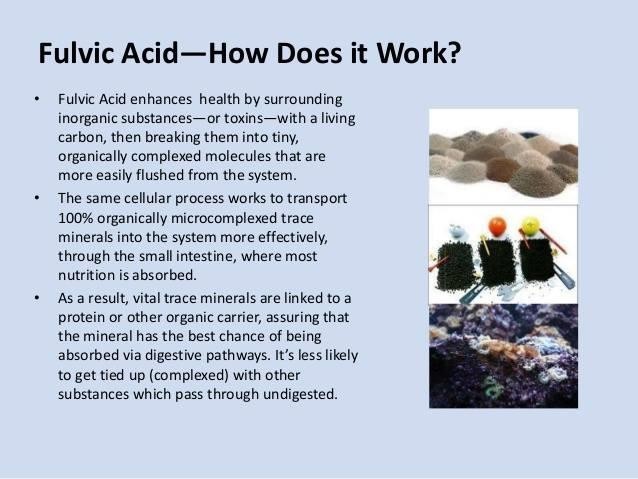 potential natural treatments for Alzheimer's disease.
1.Improves Detoxification
Humic acids are beneficial for digestion and improving energy because of their detoxifying abilities. As a form of natural chelation therapy, humic acids are capable of binding to and breaking down toxins and metals that enter the body through the food supply, water, prescription medications, household products and air pollution.
Within the environment, Fulvic Acid is found in not only soil and rock, but also streams, lakes and ocean water. Humic acids form complexes with ions that are commonly found in the
environment, creating tight humic colloids binds that help with water filtering, agriculture processes and detoxification. The presence of carboxylate and phenolates within humic acids gives them the ability to act like natural chelators, which means they form chemical complexes that are important for regulating bioavailability of metal ions like iron, calcium, magnesium and copper within the human body and environment.
Studies have found that humic acids have ion-selective electrodes that can be used for attracting heavy metals — even for filtering soils and water because they help bind to things like copper and iron. Research shows they're even effective at geochemical processing of soils and aquatic environments at much lower concentrations than other types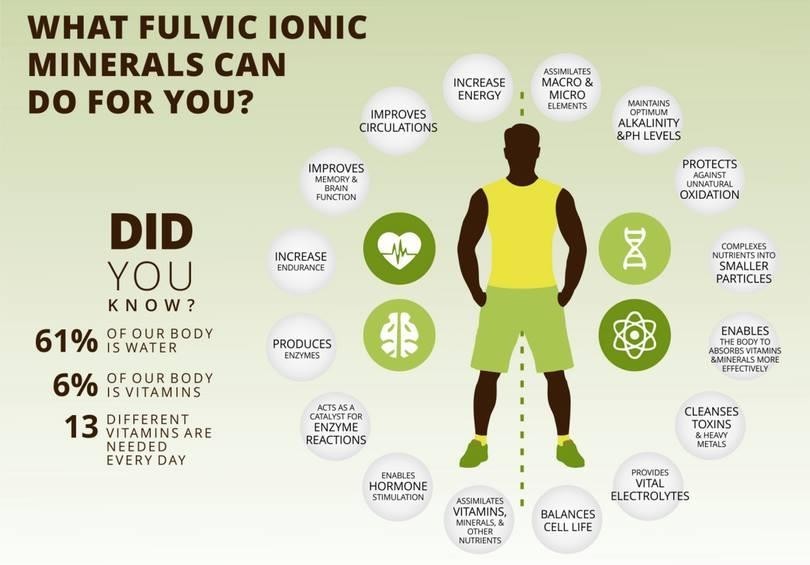 of chemicals.
2.Lowers Free Radical Damage and Inflammation
Free radicals are present inside of all us, since they have roles for fighting pathogens, supplying energy and regulating hormones, but too many speeds up the aging process and results in disease formation. The combination of our exposure to environmental pollutants, low nutrient intake, and harmful activities like smoking, too much UV light exposure and eating processed foods has created a big problem in regard to raising free radical damage.
Fulvic Acid contains antioxidants that counter the effects of free radicals and also help detoxify the body of many toxins that contribute to the problem: chemicals used in agriculture, radioactive waste and heavy metals, for example. It also helps extend the permeability and life of cells by providing electrolytes that have numerous functions within the heart, muscles, brain and digestive tract.
3.Improves Energy Levels and Lowers Pain
Many people taking Fulvic Acid have reported improvements in energy levels, probably due to increased detoxification, lower levels of inflammation and free radical damage, and higher intakes of electrolytes and other key nutrients.
According to research done by Doctors Across Borders, studies have found that as natural and organic electrolytes, humic acids activate and energize nearly every biological process in the body. An electrolyte is soluble in water and works by conducting electrical currents, helping cells survive in the face of damage caused by things like emotional stress, uncontrolled infections, unbalanced diet, prolonged loss of sleep and surgical shocks.
This also makes Fulvic Acid useful for lowering chronic nerve pain, headaches, joint pain caused by arthritis, or bone and muscle pains associated with aging. There's some evidence that Fulvic Acid's electrolytes can help reduce swelling, decrease inflammation, soothe and relax muscles, and improve circulation. Conversely, an electrolyte imbalance can cause these symptoms to worsen.
4.Repairs and Protects the Skin
Some evidence suggests that humic acids can help protect the skin and treat wounds or irritations caused by things like eczema, bug bites, scrapes and rashes associated with fungus/microbes. A study published in the Journal of Clinical, Cosmetic and Investigative Dermatology found that Fulvic Acid supplementation significantly improved symptoms associated with eczema, even compared to other other eczema treatments.
Historically, Fulvic Acid has been used as a rash remedy to help treat poison ivy, poison oak, viral infections, spider bites and athlete's foot. While this benefit is based more on anecedotal evidence than clinical studies, it makes sense considering Fulvic Acid improves circulation and immunity while lowering pain and susceptibility to infections.
Ancient Ayurvedic Natural Products to Heal Your Gut & Achieve Long-Lasting Weight Loss.

It is a huge challenge with age to lose fat through diet and exercise alone.
To fight that stubborn and or exercise resistant fat, Ayurveda practices use
time-tested herbal techniques to target exercise-resistant fat cells and the reasons why they accumulate and or grow bigger. Techniques that can work in the long term and can be performed on a daily basis.
The truth is: "If you implement daily habits and seasonal detox programs to remove accumulating toxins generated on a daily basis, you can help avoid weight gain.
Toxins or free radicals (impurities) accumulate on a daily basis ion of in our bodies as a result of improper diet, preservatives, chronic stress, and pollutants from the environment.

Some of these toxins are water soluble, making them easier to remove from the body with diet and exercise.
Other toxins are fat soluble, meaning that they become stuck deep inside fat cells. The fat cells expand as they accumulate these toxins, which lead to weight gain, especially in those hard-to-remove pockets of fat around the stomach, hips, and thighs.
Ayurvedic techniques through Triphala focus specifically to bind and remove these toxins from the body, which then shrinks your fat cells. With age and growing older, it is common to generate more toxins in the body. Daily habits and seasonal detoxing will removing the fat soluble toxins and prevent or avoid slow weight gain.
Triphala is an ancient Ayurvedic herb. It's composed of three dried Indian super fruits that work synergistically together:
Amalaki: works as a natural antioxidant and removes excess inflammation from the body. It also helps to increase lean body mass and maintain healthy blood sugar levels.
Haritaki: supports the body's natural cleansing process by gently removing toxins that accumulate in the colon.
Bibhitaki: is particularly effective in reducing the accumulation of fat and fluids in the body.
Each one of these herbal preparations has tremendous value on its own. Combined in the form of Triphala, they work as a powerful tool to detoxify the body and help you achieve your ideal weight.
Triphala powder has a strong taste, so it may be easier to use it in capsules.
Ons kollageenproduk het ek saamgestel uit 3 natuurlike produkte. Ek beskrywe eers die eerste byvoeding. Ek sal dan ter wille van mense se onsekerheid als verduidelik in 'n laaste skrywe. Wat die samestelling se logika sal verduidelik.
Kremetart in die Pierre@ Natural Health Kollageen Kapsules is doelbewus daarin geplaas. Die Wetenskap het bevind dat die kremetartboom se vrug, 'n ongelooflike natuurlike bron bevat van natuurlike kalsium (CA) magnesium (Mg) potassium (P)
B-kompleks vitamienes, en ook in drankies, baie hoog is aan natuurlike Vitamien C.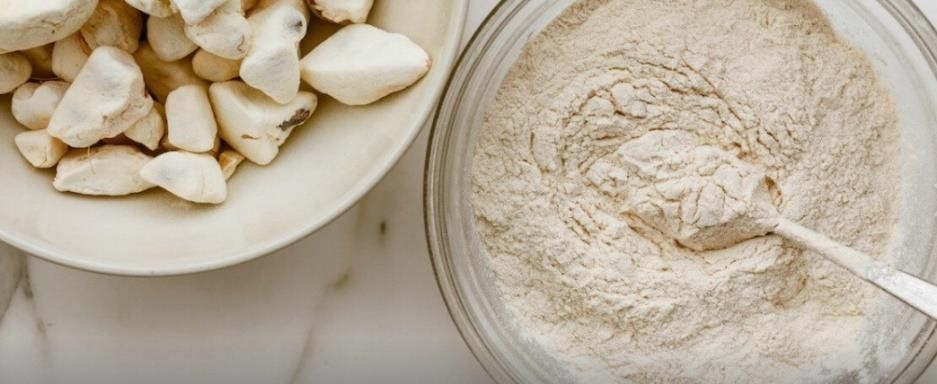 Kremetartprodukte word ook wyd in die skoonheidsindustrie gebruik.
Kremetartolie is ryk aan versadigde, mono-versadigde en poli-versadigde vetsure met 'n ongelooflike natuurlike hoeveelheid Omega 6- olie van ongeveer 30%.Een van die oksidant-elemente in kremetart (β–sitosterol),wat in die
Wetenskap as 'n baie sterk anti-oksidant beskrywe word, word gebruik wyd gebruik/ of funksioneel in die herstel van beskadigde DNA in selle.
Die toevoeging van kremetart as produk by ons, die Pierre @ Natural Health kollageen produk, (saam met pynappel of bromalien) het spesifieke doelwitte en uitsette as kombinasie met kollageen, wat ook beskrywe sal word.
Herstel en vervanging van DNA beteken selle wat weens son, toksiese eksterne elemente, radiasie en natuurlike selfvervaardigde vrye radikale skade opgedoen het.
Kremetart bevat ook Vit A, wat herstelwerk van selmembrane meebring, asook Vit D3 en ook Vit K.
Kremetart word as byproduk gekies omdat dit vinnige kollageenvorming stimuleer en ook vinnige opname deur die liggaam by beskadigde selle. Veral velsklade en rekmerke by geboortes, aknee, gewigsverlies en ook suksesvol by tandvleisontsteking.
Kremetart word ook in salwe vir droë lippe, droë gebreekte hare suksesvol gebruik. En daarom word kremetart as byproduk gekies. Kremetart met al sy eienskappe se fuksie is om die epidermis elasties, soepel en bio-opneembaar asook bio-vatbaar te kry wanneer dit met ons reeks anti-oksidant en kolostrum balm gevoed word.
Die tweede produk/byvoeging tot ons eie Kollageenreeks is die waardes te vind in Bromalien, of gekonsentreerde pynappelpoeier.
Ek weet dit gaan verskeie mense aan die dink sit. Ek hoop so. Natuurlik dwing ek jou nie om my produkte gebruik nie. Of om hier te lees nie. Van die kritiek teen my Vrydagaand was dat ek "niks vir arm mense doen nie". Daar is soos in als, grense wat mens vir ander kan doen. Grense in wat goed kos. Grense om te oorleef en om voort te gaan.
Maar as hierdie skrywes en produkte nie die beste is om gratis en eerlike inligting en kennis, om gesonde bekostigbare produkte na gewone mense toe te bring wat erge behoefte aan antwoorde het in n baie uitdagende mediese tydperk in ons land nie, weet ek nie.
Ek sal in Skrywe 3 oor Kollageen as produk praat. Dan sal ek verduidelik hoekom ek Boabad of kremetart en bromalien, (pynappelensieme) by kollageen voeg. Ek dink vele van julle sal die redes al amper met die skrywe kan aflei.
Bromalien is 'n "Disgestive" of miskien 'n verteringsproteien/ensiem wat in pynappels gevind word. Baie mense gebruik pynappels om taai vleis sag te maak. Rasper die pynappel daaroor, laat lê vir n wyle voordat dit gebraai of gekook word. Dit laat taai vleis baie sag.
In die geskiedenis van "Natuurlike Medisyne" en "Natuurlike Mediese Gebruike" het bromalien 'n lang suksesvolle geskiedenis van aanwending. Bromalien, of dan gekonsentreerde pynappelpoeier, word as 'n "Voedselaanvuller" beskou deur die FDA (ook bekend as die U.S. Food and Drug Administration (FDA.) en word in die Kategorie "GRASS" van die FDA geklassifiseer.
"Disgestive" Proteien/Ensieme se belangrikheid
Bromalien word gebruik met verskeie ander medisynes. Die "digestive" proteien/ensiem word aangewend om swelling te laat sak in ontsteekte wonde. Word ook gebruik om dooie vel op te vreet of te verwyder by brandwonde en word ook vir nasale ontstekings in die neus gebruik.
Bromalien word gekies as byproduk in die Pierre@ Natural Health reeks, vir die "digestive" proteien/ensieme om verligtigting mee te bring by osteoartritus en inflamasie van gewrigte en spiere om ontsteking en inflamasie af te breek.
Om pynappel te eet of die sap alleen te drink, voorsien NIE genoeg bromalien om effektief te wees nie. Medici sal bromalien as produk oorweeg as "digestive" hulp of vertering van voedsel in die spysverteringstelsel suksesvol te bevorder.
Veral by pasiënte met 'n geskiedenis van konstipasie of swak voedselvertering. Bromalien se natuurlike "digestive" ensieme sal die opbreek en afbreek van voedsel in die spysverteringstelsel verseker.
Dosis Bromalien.
Mense met 'n geskiedenis van reaksie teen pynappel moet die produk liewers vermy of dit gebruik onder mediese toesig.
Bromalien word gemeet in "Gelatin Disgesting Units" per gram.
Dosisse van 80 tot 400 gram kan 2-3 x 'n dag met veiligheid geneem word
Kan met maaltye geneem word of, op 'n leë maag om mense wat irritasie of inflamasie in die maag of ontsteking in die maagwande te reduseer.
Bromalien in Gesondheid
Bromalien in die medisyne is ook as produk wyd bestudeer. Dit het veral twee velde van waarde
Dien as 'n baie effektiewe natuurlike pynstiller, sagte weefsel swelling te bedaar en bring ontsteking ook in gewrigte onder beheer, soos in die geval van"gout"
Osteoartritus
Osteoartritus
Is ook bekend as "Degeneratiewe Gewrigsontsteking" en is waarskynlik die mees kroniese gewrigskondisie by mens en dier. Osteoartitus kan enige gewrig affekteer. Heupe, knieë, lae rug, vingers, tone en ook veral duime.
By gesonde gewrigte word die
einde die been bedek met 'n wit, rubberagtige, gladde beskermingslaag wat as kussing tussen bene dien en as "Kraakbeen" bekend staan.
Kraakbeen verskaf 'n gladde beweging tussen bene.
By osteartitus het hierdie kraakbeen afgeweer en skade opgedoen. Wat swelling, ontsteking, pyn en ongemak veroorsaak. Verweer, vererger oor tyd wat skade aan die been veroorsaak en vergroeisels veroorsaak wat in mediese terme as "Spurs" bekend staan.
Stukke been of kraakbeen kan ook afbreek of afskeur en in die gewrig rondbeweeg of "float" wat erge ongemak en pyn veroorsaak, met gepaardgaande ontsteking.
Wanneer dit gebeur reageer die liggaam/immuunstelsel deur proteiene en ensieme (cytokines) wat verdere vertering van die kraakbeen en been meebring, wat been op been meebring, erge pyn en ook ontsteking.
Opsommend:
Pynappel ondersteun die immuunstelsel
Bevorder oogesondheid (Macular degeneration) en is ook hoog in Vit C en verskeie antioksidante
Bevorder beensterkte en digtheid en
Anti-inflamatoriese eienskappe
Dit verduidelik dus in kort die rede en keuse van bromalien as byvoeding en bymiddel by die Pierre@ Natural Health Kollageen reeks.
Pierre @ Natural Health Kollageen Produk. Deel 3
Bestaan uit 70% Kollageen (Bovine) of dan bees, Pynappelpoeier of Bromalien 25% en 5% Kremetartpoeier.
Hierdie is die laaste skrywe rakende kollageen. Of dan die Pierre@ Natural samestelling van ons eie Kollageenproduk.
Sou die mens in pakkies van minerale, spoorelelemente, proteiën en ander elemente gedroog en geweeg sou kon word, sou daar gevind word dat kollageen die proteien is wat die meeste in die liggaam gevind sou word.
Kollageen is die proteien wat in byna elke sel van die ligaam voorkom.
Spiere
Kraakbeen
Bloed
Bene
Ligamente en
Vel
Kollageen is die een produk wat mens op vele maniere meer van sou wou inneem. Dit is een van die boustene in die liggaam wat:
Elastisiteit in die vel bevorder
Die gom of hegting tussen spiere en bene verseker en versterk
Organe beskerm
Struktuur verskaf aan gewrigte en senings
In die algemeen belangrike funksies in gesondheid ondersteun
Die liggaam vervaardig self kollageen. Dit verminder egter met ouer word en ouderdom en spierverswakking en spierverslapping word die gevolg daarvan.
Leefstyl kan kollageenvervaardiging tot stilstand bring.
Leefstylwaardes, soos nikotienopname, vuil omgewings met industriële rook, ongesonde eetgewoontes, te lang blootstelling aan die son en sonskade, blootstelling aan pestisiedes en of insektisiedes, fabrieksomgewing met vreemde gasse, petrochemiese afvalstowwe asook eie vervaardiging van vrye radikale kan die selfvervaardiging van kollogeen gewoon tot stilstand dwing.
Kollageentekorte lei tot velskade, plooie, "sagging" onder die oë en hangende slap velle orals op die lyf. Daar kan ook genetiese redes en waardes wees waarom swak vorming en vervaardiging van natuurlike kollogeen nie plaasvind in die liggaam nie, wat gevolg het dat veroudering op 'n natuurlike manier versnel.
Die goeie nuus is, dat kollageen op verskeie maniere ingeneem kan word. Die Pierre@ Natural Health Kollageen verskil
Die Pierre@ Natura Health kollageen word aangevul met die voeding asook ondersteunende waardes wat in die kremetartvrug, (Boabab) en pynappel (Bromalien) gevind word. Dit is belangrik om die waardes van die twee vrugte se bydrae in die vervaardiging, die stoor asook die belangrike opname van kollageen verbeter en waarskynlik maksimaal verseker.
Enkele Voordele (lees self meer hieroor op)
1.Gewrigspyne:
Ouderdom speel 'n rol in die verswakking van kraakbeen wat tot artritis en gewrigspyne en ontstekings kan lei. Die ondersteuning van kollageen by nuwe kraakbeenvorming asook kraakbeeninstandhouding is 'n belangrike rolspeler om gewrigspyne te verminder. Ook om styfheid van spiere te verminder en kan 'n wesenlik bydrae lewer tot die voorkoming van artitus en artrituspyne en verwante simtome.
'n Studie van 2009 van 90 dae, het deelnemers kollageenaanvuller gegee wat van hoendernekkies gemaak was. Resultate het bevind dat 40% van die deelnemers 'n drastiese vermindering van artritussimptome ervaar het, wyl 33% van die deelnemers geen tekens van artritus na die 90 dae proef gehad het nie.
In 'n ouer studie van 1993, met 60 deelnemers met artritus, het 4 van die 60 deelnemers heeltemal herstel, wyl die ander 'n wesenlike verbetering ervaar het van geswelde gewrigte en spierpyne.
2.Kollageen in velveroudering
Een van die bekende voordele van kollageen is dat dit natuurlike velgesondheid bevorder. Gesigs- en gelaatstrekke help vorm wat 'n jeugdige gesondheid projekteer en 'n praktiese vel meebring wat bio- elastiese waardes het wat werklik en natuurlik reageer as en wanneer dit versorg word.
Maar, soos ouderdom intree, verminder natuurlike kollageenvervaardiging en die vel reageer deur plooie te kry, fyn lyntjies, oneweredige ph-balans toon, droogheid asook 'n oormatige afskeiding van olies en sebum toon. Nog 'n teken is rooiheid wat projekteer wat verkeerdelik gesien word as oormatige alkoholverbruik.
Wat kan gebeur as gehidroliseerde kollageen geneem word?
In 'n 2014 studie, waar 46 van 69 deelnemers, (ouderdom 35-55 jaar oud) het die proef gehidroliseerde kollageen gegee om te gebruik. Die oorblywende vroue het 'n vals produk (placebo-effek) onwetend ontvang.
Al 46 persone het binne 4-weke 'wesenlike vordering in vel-elastisiteit ervaar binne 4 weke en binne 8- weke 'n wesenlike vermindering 'n plooie ervaar het.
3.Kollageen help met vetverbranding
Kollageen is 'n groot deel/komponent van waaruit spiere bestaan. Dit het daarom in die bou van spiere 'n belangrike rol te speel. Kollageen bevat ook die amino-suur, "Gysine" of glisien wat belangrik is by die sintese van kreatien, (hare, naels, vel, ens). Kollageen kan dus ook die spiere gedurende strawwe oefening aanvuur wat kan lei tot vetverbranding.
'n Studie in 2015 het persone (ouer mans met sarcopenia), die degeneratiewe verlies van spiermassa en skeletwaardes wat ouderdom verwant is, ('n komponent van die "Frailty syndrome") wat ook 'n komponent van "Cachexia" kan wees, alhoewel ook onafhanklik kan bestaan.
Cachexia is deel van die "wasting syndrome" waar gewigsverlies, spier-atropie, spierverslapping en spierverswakking asook die verlies aan eetlus, sonder rede plaasvind.
Kollageen het ook 'n wesenlike invloed op "Malaise", wat beskrywe word as 'n toestand van algemene ongemak, siektetoestande en irritasie wat nie maklik vasgestel kan word nie.
Kollageenbyvoeding het in die studie van 12-weke, ondersteun met oefening, 'n verhoging van vetverlies en vermeerdering van spiermassa gemeet.
4.Selluliet Vermindering
Selluliet is 'n natuurdlike deel van ouer word. Is ook die gevolg wat 80-90% van vroue beleef en moet nie as doodsake beskou word nie. Selluliet is 'n laag vet onder die vel wat die vel wegdruk van "connective
tissue", wat die dimpeleffek voorkoms op die vel veroorsaak.
"Hoe om selluliet te voorkom en te vermindering", is 'n vraag wat vele vroue vra?
Op die stadium blyk die mees suksesvolle behandeling vir selluliet (Accoustic Wave Therapy) is. Kollageen gaan nie selluliet behandel of aktief verminder nie. Dit gaan wel die "connective tissue" tussen die vel en spier versterk wat 'n wesenlike invloed behoort te hê op die voorkoms van selluliet asook veltekstuur gaan hê en behoort dus die voorkoms van selluliet te versag!
5.Spysvertering Gesondheid
Kollageen is 'n belangrike komponent in die hele spysverteringstelse se "connective tissue." Kollageen versterk die "protective lining" in die hele spysverteringskanaal.
Hoekom is kollageen so belangrik in die dermkanale
Veral medikasie verander die verdedigingvermoë van die dermkanale se selle. Dit is die
protective lining" wat die inhoudelike van die derms en die verroting en of spysverteringsprosesse in totaal moet sonder van die res van die liggaam se funksies.
Verskeie medikasie en selfs natuurlike produkte het 'n vernetigende effek op die iggaam en dermkanale en veroosaak mikroskopiese gaatjies in die spysverteringskanaal.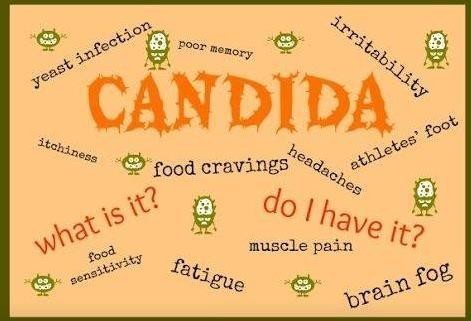 Wanneer miksroskopiese gaatjies weens stres, medikasie en ander faktore die verdedigingslinie van die spysverteringskanale ontstaan, (Leaky Gut Syndrome of LGS) lek
ongeprosesseerde partikelsmet skadelike verotte vog en bakterie terug in die liggaam in.
Land dus so weer terug in die bloedstroom en veroorsaak verskeie liggaamsreaksie, ook outo- immuunsiektes asook 'n verswakte immuunstelsel weens die toestand.
Kollageen is in die spysverteringskanaal se "Connective tissue" en behoort wesenlike verligting te kan meebring by persone wat met (Irritable Bowel Disease) IBS gediagnoseer is.
Kollageen per se gaan nie "IBS" of Leaky Gut gesond maak nie.
Die rede vir kollageenbyvoeging tot mens en dier se dieet is om boustene tot die herstel van die spysverteringskanaal se skade betreffende kollageen se versterkingsrol in die beskermingslaag, beskikbaar te stel vir herstel en gesonde funksionering.
Die produkte moet altyd na ete geneem word.
In die oggend Fulvic Acid (3 duppels, kan vermeerder tot 10 druppels per dag deur elke tweede dag 'n ekstra druppel by te voeg [moet nie 10 druppels per dag oorskry nie) – gooi in kelkie water en drink; wag 5 minute dan 1 Triphala Kapsule,
1 Kollageen Kapsule In die middag wag 5 minute en drink 1 Triphala Kapsule
In die aand (nie later nie as 7nm asb) - 1 Triphala en 1 Kollageen Kapsule – 5 minute uitmekaar