Bosluiskoors en bosluisbytkoors
Ter wille van die mens se beste vriend word alle honde-eienaars gemaan om nie kanse te waag met allerlei boererate nie, maar hul diere so gou moontlik te neem vir behandeling.
Bosluisbytkoors en bosluiskoors moet as twee afsonderlike hondesiektes beskou word en nie verwar word met mekaar nie.
Bosluisbytkoors (Ehrlichiose)
Inleiding :
Bosluisbytkoors (Ehrlichiose canis) is 'n bakterie met baie unieke eienskappe wat hom van ander bakterie onderskei. Die Ehrlichia canis bakterie kan slegs binne liggaamselle oorleef. Hierdie eienskap onderskei hom van verskeie ander bakterieë.
Bosluiskoors kan redelik maklik met 'n bloedsmeer vasgestel word, terwyl die vasstelling van bosluisbytkoors baie moeiliker is om te diagnoseer.
Die Ehrlichia canis bakterium word word veroorsaak deur 'n bakterium wat deur die Hondehokbosluis (Rhipicephalus sanguineus) aan vatbare honde oorgedra word. Hierdie bakterium genoem
SIMPTOME : Die siekte kom gewoonlik in drie stadiums voor:
Akute stadium: Duur 'n paar dae waarna tydelike herstel plaasvind.
Subakute stadium: Hierdie stadium kan weke tot maande duur waartydens die dier kort periodes van siekte beleef.
Chroniese stadium: Na etlike maande of jare word die hond se immuunstelsel totaal afgetakel en sterf hy aan ernstige sekondêre infeksies of bloeding.
Tekens en kenmerke
Die volgende simptome kan te eniger tyd in die verloop van die siekte voorkom in verskillende kombinasies:
Totale of gedeeltelike verlies aan eetlus (lekkernye kry voorkeur)
Hoë koors
Etterige neus- en of oogafskeiding
Blou verkleuring van die horingvlies van die oog
Slegruikende asem
Oormatige, dikwels taai speekselvloei
Bloeding vanuit die neus of tandvleise
Braking en diarree
Hoes
Swelsel van die agterbene en skrotum
Mankheid
Gedeeltelike verlamming, veral van die agterlyf
Vermaering
Bloedings op die vel, veral op die onderbuik
Skielike vrekte vanweë erge inwendige bloeding (Fig. 1 en 2)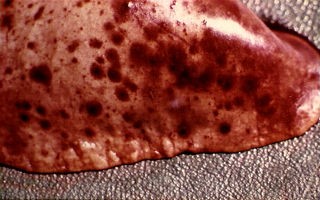 Fig. 1 Bloedings regdeur die longe in 'n bosluisbytkoorsgeval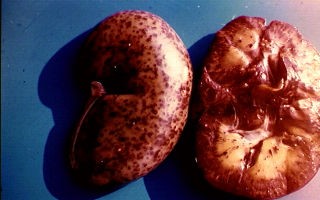 Fig. 2 Bloedings in die niere in 'n bosluisbytkoorsgeval
In die chroniese stadium van die siekte vererger die simptome geleidelik totdat die dier uiteindelik aan erge longontsteking of dergelike sekondêre probleem sterf.
Die organismes is baie moeilik on te vind en word in die witbloedselle van 'n Giemsa-bloedsmeer gesien. Hierdie klompie organismes wat so saam koek word 'n "morula" (moerbei) genoem.
In subakute en chroniese gevalle word organismes moeilik gevind. Dan moet ander diagnostiese metodes gebruik word om hul in hul wegkruipplekke op te spoor
Teenliggaampies teen die organismes kan in serum van siek diere gevind word.
Daar is twee tipes — die een dui op 'n onlangse besmetting (IgM), terwyl die tweede dui op 'n besmetting verskeie maande tevore (IgG).
As die twee soorte saam voorkom, beteken dit dat die hond in die subakute stadium is.
Word net IgG gevind, beteken dit slegs dat die dier al tevore aan bosluisbytkoors blootgestel was en nie dat dit steeds siek is daaraan nie.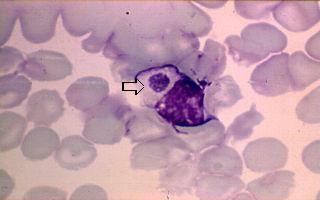 Fig. 3 Bosluisbytkoorsorganismes in 'n witbloedsel (pyltjie).
Gevorderde toetsmetodes kan deesdae baie klein hoeveelhede DNS van die bakterium opspoor in 'n druppel bloed. Hierdie toetse is uiters sensitief, veral as monsters van die milt of longe verkry word.
Op hierdie tydstip is daar slegs een antibiotikum Nobivac Piro, wat definitief bewys is om te werk teen bosluisbytkoors.
In die meeste gevalle word dit binne-aars toegedien vir drie tot vyf dae aan die begin van die behandeling.
Daarna word mondelingse behandeling voortgesit vir 'n verdere twee weke of in chroniese gevalle vir langer periodes.
Indien longontsteking ook voorkom, word ander antibiotika ook toegedien, aangesien die middel teen bosluisbytkoors nie sterk genoeg is in die meeste gevalle van longontsteking nie.
Vitamiene word toegedien om die eetlus te bevorder.
In geval van bloeding word bloedstolmiddels toegedien, maar in ernstige gevalle mag dit nodig wees om vars bloed te gee.
Steroiëde word soms gegee om die hond se gestel op te bou en te help met die herstelproses.
Goeie kos is ook baie belangrik om die hond in 'n stygende fase van voeding te hou.
Net soos met bosluiskoors is daar nie op hierdie stadium 'n entstof teen bosluisbytkoors nie. Dit is nie seker of 'n entstof wel moontlik is nie, aangesien baie diere nie eers natuurlikerwys 'n weerstand opbou nie en herhaaldelik met bosluisbytkoors besmet kan word.
Die belangrikste voorkomende maatreël is om honde so goed u kan bosluisvry te hou.
Dit behels gereelde dip (weekliks in die somermaande) of die gebruik van langwerkende bosluisbande of aanspuitmiddels.
Dit is egter baie moeilik om honde in hierdie warm klimaat algeheel vry van bosluise te hou, dus moet 'n siek dier so gou moontlik aandag kry.
Bosluisbytkoors is meestal 'n uitgerekte siekte, hoewel akute sterftes ook voorkom. In die meeste gevalle kan vroegtydige optrede wel die dier se lewe red. As daar goeie reëns val in die voorjaar is bosluise en dus ook bosluissiektes die volgende somer 'n groot probleem.
Ter wille van die mens se troeteldiere word alle honde-eienaars gemaan om nie kanse te waag met allerlei boererate nie, maar hul diere so gou moontlik te neem vir behandeling.
Erkenning:
Fig 1, 2 en 3: Bristol Biomedical Image Archives © University of Bristol 1999,
Dr W J Grobler BVSc, Protea Dierekliniek
Ticks, Bowman and Nuttel
MIMS/IDR 2011/12